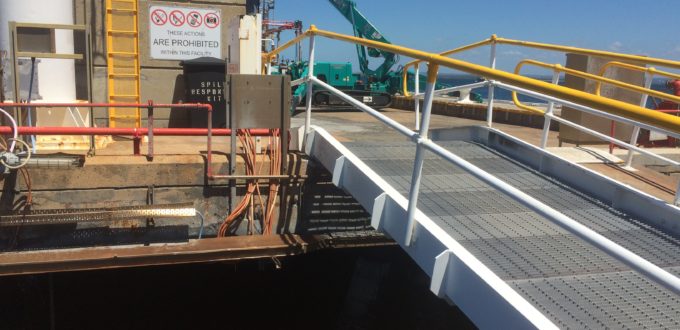 Client
NSW Ports
Project Value
<$1M
Project Overview
NSW Ports required assessment of the existing steel bridge structure spanning between the BLB1 working platform and the northern dolphin to whether forklifts could be utilised to access the dolphin.

No drawings etc. were available regarding the bridge structure and therefore the bridge required additional inspection to be physically to confirm dimensions and structural details.

JJR Involvement
JJ Ryan Consulting intends to first conduct the site inspection to record structural information so that the structural analysis of the bridge can be undertaken. The inspection scope includes the following components:

General arrangement of the bridge (length, width and slope);
Longitudinal beams (general arrangement, size and details);
Cross beams (general arrangement, size and details);
Horizontal bracing (general arrangement, size and details);
Stiffeners (locations and details);
Connections (layout, bolt arrangement and details, weld arrangement and details, plates);
Grating (arrangement, thickness, etc. and confirming the material grade);
Handrail (general arrangement and details); and
Bearing plate at each end of the bridge.

JJR subsequently undertook detailed design of structural reinforcement to ensure that the carrying capacity of the structure was sufficient for the new design loads.