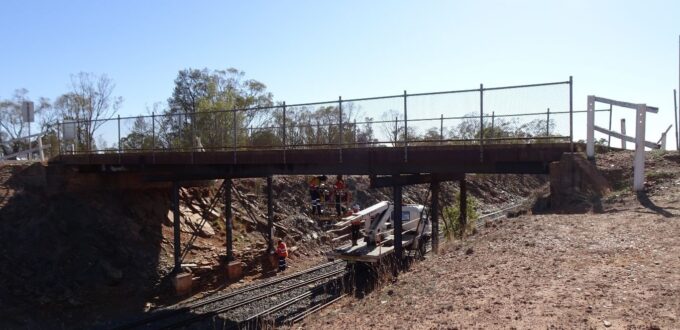 Project
Load Testing for Tottenham Road Overbridge, Tottenham
Client
John Holland Rail
Project Value
< $100k
Project Overview
John Holland Rail (JHR) appointed JJR to carry out a Level 3 Inspection and Load Rating of Tottenham Overbridge (OBW32597A), in accordance with AS 5100 Australian Bridge Design Code and applicable JHR CRN standards, including:

Civil Technical Maintenance Plan;
Over bridges;
Civil Service Schedule;
Structures Examination; and
Bridges – Load Rating.

Tottenham Overbridge is a three-span steel girder bridge, built in the 1910s with a timber deck, which was replaced with a reinforced concrete deck, and steel trestles with concrete footings and abutments.

JJR Involvement
JJR carried out stationary and moving load tests of the bridge with temporarily fitted displacement and strain gauges. Output from the gauges was analysed using a combination of known, inferred, and assumed parameters with computer/mathematical models of the bridge. The load testing results and structural engineering assessments were delivered in a report to JHR.