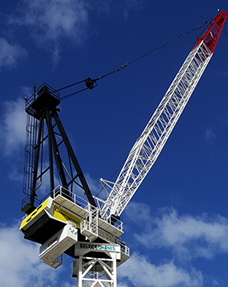 Project
Obstacle Lighting Plan for 69 Flemington Road, North Melbourne
Client
Hacer Group
Project Value
$50M – $100M
Project Overview
Hacer Group engaged JJR to provide a crane obstacle lighting plan in accordance with Chapter 9.4 of the Civil Aviation Safety Authority Manual of Standards (MOS) Part 139.
JJR Involvement
JJR reviewed the type of light, intensity, height of the crane, location and the possibility of obstacle marking impacts of the temporary crane operations against the current Essendon Airport Obstacle Limitation Surface (OLS).

The review findings and recommendations for the temporary crane works were reviewed against the MOS Part 139 requirements and presented in a letter form for the Hacer Group Pty Ltd to submit to Civil Aviation Safety Authority (CASA) for review.