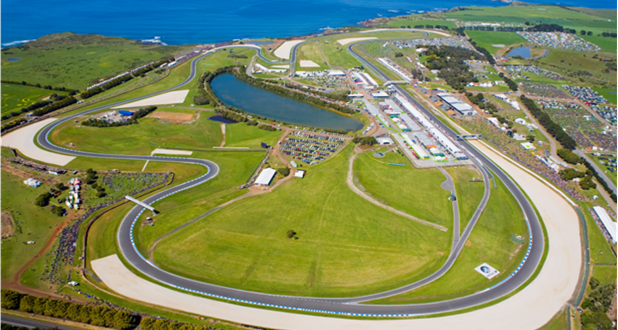 Project
Phillip Island Grand Prix Circuit Racetrack, Turn 10 – Run Off Area Engineering Design
Client
Downer Group
Project Value
$1M – $10M
Project Overview
Downer Group engaged JJR to undertake a survey, investigations design and specification for a new run-off on Turn 10 of the Phillip Island Grand Prix Circuit, which includes a paved run off area and gravel trap.

The Phillip Island Grand Prix Circuit is a motor racing circuit that hosts international motorcycle and car racing events.

JJR Involvement
Survey and geotechnical investigations were undertaken to inform pavement and geometric designs. Pavement and drainage design were prepared in accordance with VicRoads and Austroads. Track and geometric design were prepared in accordance with national and international motorcycling and racing car associations. The design report was prepared by JJR and included potential cost saving alternative design options; compare geometric design of the new pavement with relevant standard requirements; and validation of structural pavement design, including:

FIM 2018 FIM Standards for Circuits;
MA 2011 Track Guidelines, Guidelines for the Inspection and Licensing of Tracks;
FIA 2018 International Sporting Code, Appendix O, Procedures for the Recognition of Motor Racing Circuits;
CAMS 2012 Track Operators Safety Guide;
Austroads Guide to Road Design (AGRD);
Austroads Guide to Pavement Technology (AGPT);
VicRoads Supplement to the AGRD;
VicRoads Supplement to AGPT;
VicRoads Specifications; and
Bass Coast Shire Council (BCSC) 2018 Local Government Infrastructure Design Association, Infrastructure Design Manual.