As the power of computers and artificial intelligence (AI). continues to develop at a break-neck pace, many companies, governments and individuals are harnessing this power to make the world safer, more productive and far more efficient. As a poster-child for technological development, autonomous drone technology will be increasingly adopted in the industrial sector, playing a more important role in shaping the future of industrial operations.
Autonomous drones are Unmanned Aerial Vehicles (UAVs) that operate using operating and navigation software powered by AI, and do not require a human pilot. From taking off and landing to conducting aerial inspections and topographic surveys, these aircraft complete tasks and make decisions on their own.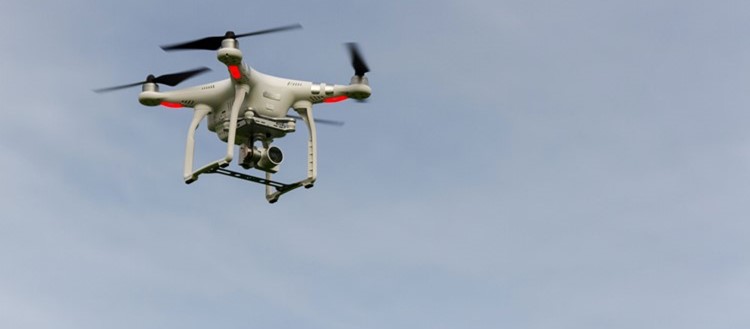 Mobility as a Service (MaaS)
A key consideration when designing roads of the future is the recent adoption of 'Mobility as a Service', whereby passengers are able to have their unique transport requirements met, without the need to purchase expensive personal vehicles. Champions of this new philosophy include DiDi, Uber and other ride sharing apps, where users are offered the convenience and benefits of buying a car, for a fraction of the upfront cost.
Table 1 – Levels of Drone Autonomy
| | |
| --- | --- |
| Level 1 | The pilot remains in control of the overall operation and safety of the vehicle. |
| Level 2 | The aircrafts onboard control systems will manage many of the core process, but a human pilot is still primarily responsible for the safe operation. |
| Level 3 | Similar to level 2 but the vehicle has slightly greater awareness of its surroundings. |
| Level 4 | A high-level of autonomy that allow us to unlock the true value of drones in the monitoring of assets and operations on a massive geographical scale. |
| Level 5 | The drone controls itself under all circumstances with no expectation of human intervention. |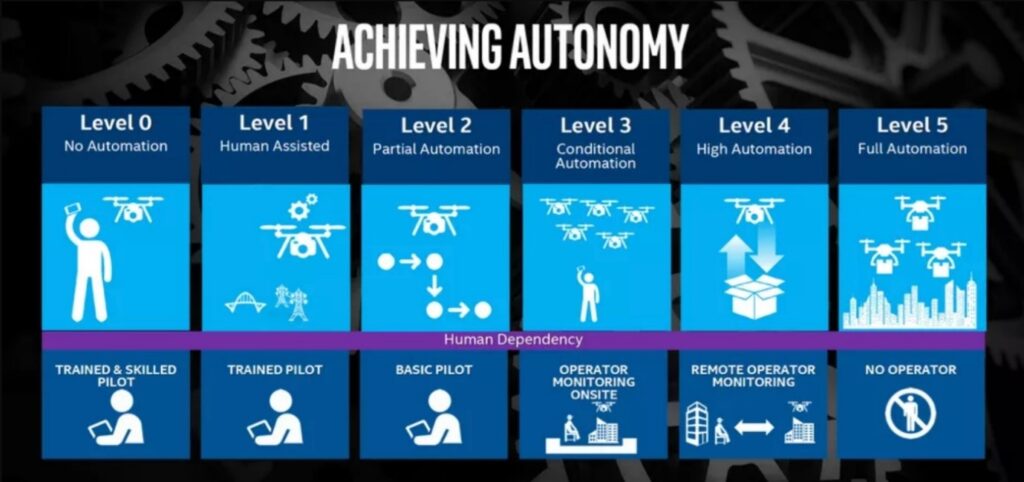 There are various types of drones, including Autonomous Industrial Drones and Air Mobility Drones.
Autonomous Industrial Drones
Autonomous Industrial Drones are changing the way we manage and maintain critical infrastructure, industrial operations, health and safety processes, and ensure business continuity after severe weather and other incidents as well as generally maintain compliance.
The main roles of these drones include persistent and consistent monitoring that collect visual data on critical site assets, minimise risk of otherwise inaccessible areas, detection of anomalies to prevent potential disastrous failures, and leveraging aerial data from site inspections to validate insurance claims faster. The main areas of applications include mining, energy and industrial sites, oil & gas, ports & terminals, and solar energy.
Additionally, drones can be utilised for military and other surveillance operations at a lower cost than manned-drones.
Drones can be either Vertical Take-off and Landing (VTOL) or convention fixed-wing type aircraft.
In recent years major brands such as Toyota, Uber, and Boeing are leading the market for flying cars, known as electric air taxis and through this air mobility they aim to connect urban centres with suburbs while keeping away from traffic.
Air taxis generally are VTOL aircraft as the name suggests, air taxis can take off, hover and land vertically. This idea is becoming a more viable and faster alternative to traditional land-side transport services. Air taxi services can be provided on demand using a network of landing hubs, similar to cable car stations where passengers board and disembark. They can operate independently of the road network, so they can operate independently of traffic jams. In other words, you can calculate the arrival time accurately. This makes their use especially promising for the Airport Shuttle Service as well.
The Future of Drones in Australia
It was recently announced that Australia's first air taxi infrastructure will be built in 2023 at the Australian Advanced Manufacturing Center of Excellence in Moreton Bay, Brisbane, Australia.
The way consumers engage with shopping centres is set to evolve as mall giant Scentre Group commits to integrating new technologies. This is because Uber Elevate have a deal with Westfield to implement VTOL landing sites on top of their shopping centre car parks.
Embraer's spin-off Eve Urban Air Mobility and one of Australia's leading helicopter operators, Microflight, have announced a partnership to lay the foundation for Australia's urban air mobility business, which is set to begin in 2026. Embraer's Eve has developed both a zero-emission, low-noise electric vertical take-off and landing (eVTOL) vehicle and an Urban Air Traffic Management (UATM) system.
JJR provides expert advice on rotorcraft downwash associated with a proposed VTOL, drones, helipad developments etc. Aerowash is a proprietary product developed by EngiSeek which can be utilised in the planning and detailed design phases of VTOL site designs.
Learn more about the principles and theories of downwash here and learn about EngiSeek here.