There are various standards relating to the design, installation and operation/maintenance of sports field lighting. The Australian Standard for the design and operation of sports field lighting is AS 2560 (Sports Lighting General Principles), AS 4282 (Control of Control of Obtrusive Effects of Outdoor Lighting) and AS 3000 (Electrical Installations – Wiring Rules).
AS 2560 contains recommendations and requirements for the lighting of places, both indoors and outdoors, where sport is played. It includes general principles and recommendations for sports lighting, descriptions of suitable types of lighting equipment, and requirements regarding methods for the assessment or measurement of sports lighting installations. This standard is divided into further elements which include:
AS2560.1 Sports Lighting General Principles
AS2560.2.1 Sports Lighting Specific Applications – Lighting for Outdoor Tennis
AS2560.2.2 Guide to Sports Lighting Specific Recommendations – Lighting for Multipurpose Indoor Sports Centres
AS2560.2.3 Sports Lighting Specific Applications – Lighting for Football (All Codes)
AS2560.2.4 Sports Lighting Specific Applications – Lighting for Outdoor Netball and Basketball
AS2560.2.7 Sports Lighting Specific Applications – Outdoor Hockey
AS2560.2.8 Sports Lighting Specific Applications – Outdoor Bowling Greens
AS 4282 specifically refers to the potentially adverse effects of outdoor lighting on nearby residents (e.g. of dwellings such as houses, hotels, hospitals), users of adjacent roads (e.g. vehicle drivers, pedestrians, cyclists) and transport signalling systems (e.g. air, marine, rail), and on astronomical observations.
AS 3000 is essential for electricians, inspectors and regulators, as it specifies the electrical installation safety requirements for all premises in Australia and New Zealand. Compliance with the new Wiring Rules AS/NZS 3000 will be applied on a mandatory basis in accordance with relevant State legislation.
Unlike AS3000, AS4282 and AS2560 standards are guidelines, and local authorities may have specific requirements that need to be adhered to, for example, in some municipalities, the requirement for lighting during the evening will only be for training sessions, not for actual competition, and each state in Australia may have slightly different requirements as well, hence it is important to check with the local authorities before starting any lighting project.
An example of various lux levels required can often by supplemented by more detailed guidance is the Cricket Australia (2021), Cricket Lighting Guidance Note; AS 2560.2 Sports Lighting Part 2 – Specific Applications (updated September 2021).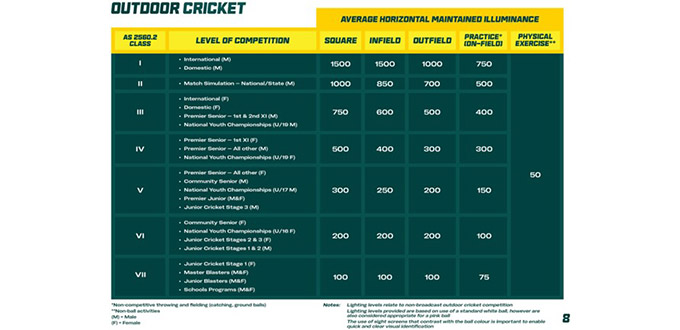 An important aspect of lighting design is determining the number, location, and type of light fixtures needed to achieve the minimum illuminance levels for a given sports field. Designs should take into account factors such as the size and shape of the field, the surrounding area, and the specific requirements of the sport being played. As per Table 1, different parts of the field in cricket have different lighting requirements (e.g. the outfield requires 1,000 lux whereas the square requires 1,500 lux for international men's matches).
An example of some awesome lighting at the Sydney Cricket Ground (SCG) is shown in Figure 2. Note, the compliance of the existing lighting can be measured using a lux meter. Readings are obtained are regular patterned intervals which allows the conformance of the lighting to the standard to be confirmed.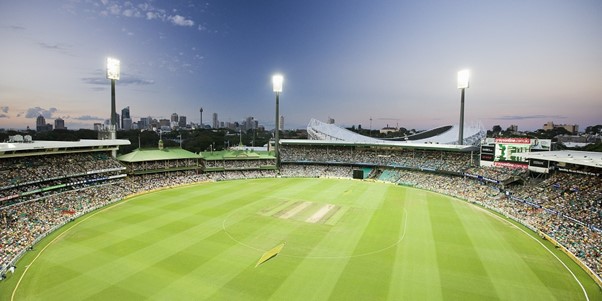 Our team utilise the Lab 55000 software (refer to www.lab55000.com) to collect and analyse lux readings to measure compliance with standards for inter alia street lighting, airfield ground lighting and sports field lighting.
Happy playing!